Blog
Jul 28, 2009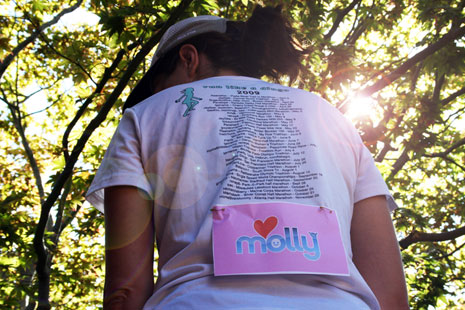 Yesterday, Jennifer Birch ran the San Francisco Half-marathon for Molly, and generated some money for the Molly Fund in the process. Her run was trackable here, but it seems it now only has an end-point from the race. Anyway, here's a recap of her experience:
---
Like so many people, I never had the privilege to meet Molly in person. However, having hung on Buck's every word through the CarePages site, I feel like I know her. I have a feeling I would have been lucky to have known her.
Yesterday, I ran the San Francisco half-marathon in her honor, as well to help raise awareness and donations for The Molly Fund. I have been training for this race for a while, well before we got the news about Molly's cancer back in February, but something about this day, this race, felt right to run it for Molly, as if she was my intent all along.
Like most runners, I have my routines and well-honed quirks. Prior to race day, I try to plan as best I can for the best possible outcome but inevitably, something will come up to remind you that it's not really all about you. Molly graced me with a few of these moments yesterday that I would like to share here.
I planned in advance to stay with a friend in the city the night before to make it easier on everyone when it came to getting me to the start line early. I forgot to bring along food, so I asked my friend if she had some bread and peanut butter for the morning. "Oh yeah, it's in the fridge, help yourself tomorrow." The first thing I saw the next morning, when up at dawn, alone, quietly trying to fix my fuel-up, was a jar of almond butter emblazoned with the brand name "MOLLIE" staring back at me when I opened the fridge. Even with the spelling misnomer, I smiled and thought to myself "This is going to be a good day. Let's do this."
Later, after I was dropped off at the start area in Golden Gate Park, I was looking over the lake, taking in the beauty, trying to calm my nerves a bit, possibly mumbling to myself…a flock of birds lifted up out of the lake and flew directly over me in perfect formation. I looked at the sky in awe, smiled and said a quick "Thanks" to Molly for the reminder that she was around, watching over me.
The next part was the best and the hardest. At some point a few days earlier when I created my music playlist for this race, I had a song on there I listened to during training that I was just not sure of. As I thought it over, I decided to keep it – it's a bit sad, but the words and imagery are beautiful and made me think of how I was running for Molly. I always set my playlist to shuffle so I never know what order the songs will come. This song arrived at a moment that I thought maybe I might skip it to get on to something faster to help me through a tough spot. I thought about it for a few seconds and decided, "Nope. I'll just take a moment during this part of the run and reflect on the reason I am running today: for Molly"… The words of the song came… "I will race you to the waterside.." and at that very moment, I emerged from a tunnel in the park, and looked to my left at the most beautiful waterfall I think I have ever seen. I have been in this park a lot and I have never seen this waterfall before right then. It took a lot to maintain my composure at that moment. I am afraid, actually, that I really didn't for a good few minutes. Luckily, with the Molly sign I had pinned to my back, I think people understood that I had more than just an individual purpose that day. Thank you, Molly, for that reminder and for giving me wings to finish my race.
-Jennifer