Blog
Nov 29, 2009
I hope that everyone had a wonderful Thanksgiving, and thank you all for the great messages because we certainly do appreciate the fact that you're keeping us in your thoughts. Meg, Kieran, and I dipped out of town for the week and headed down to FL. to spend the week with a lot of Meg's family. We did Disney for a few days, Kieran spent a lot of time in the pool working on his "doggy paddle," but it was just awesome to spend time with our loving family and we had a lot of fun. Thank you, Mark & Misty, and thank you, Jason, for the Dirty Bird's. I am on the wagon….
If you have been reading the recent updates, then you're well aware of the Mustache-A-Thon event that a lot of us participated in during the past month. The event officially ended on the 18th and we had a big bash at the North Beach Grill in order for the judges to cast their votes. Chuck is going to post a few of the photos as soon as he has a chance, but you can see all of the great "staches" on http://www.facebook.com/pages/Hampton-NH/North-Beach-Bar-Grill/180744991072?ref=ts
Nate Lupoli won and Steve O'Hara took second place. Of course, Stevie managed to dodge the camera all night, so there isn't a photo of his "Hulkamania stache," but take my word….it was classic. I can't even begin to thank everyone for contributing to the event, raising a good chunk of money to continue to fuel the Molly Fund, and this event provided us with a lot of good laughs. Thanks again, brothers!
A few months ago, some friend's of ours asked us if it would be okay if their young daughter could raise money for the Molly Fund for her birthday. Meg and I thought that was such a beautiful gesture, so Taylor Girard asked all of her friends to contribute to the Molly Fund instead of bringing her presents for her birthday. When Meg and I returned home from Fl. the other day, and we were sorting through the mail, we came across Taylor's Molly Fund check as well as a a picture that she had drawn of Molly playing in Heaven. Taylor's picture is exactly the way that I envision Molly – she has long blond beautiful hair and she is smiling. Yes, Molly is happy.
Thank you, Taylor…..
Meighan and I knew that the Holidays would be difficult without Molly. We had planned on getting out of town for Thanksgiving and Christmas, but Kieran is not too stoked on the fact that Santa may not be able to find us if we're not home. Kieran was upset that Santa wouldn't be able to deliver his present to him if we're hopping around the tropics and chasing warm waves this Christmas. So we are staying home for the Holidays. I have a feeling that home is exactly where we should be this Christmas. I am certain that Molly's presence will be felt throughout the house. I close my eyes and I can see her standing beside the tree, playing with her little ornaments, and she is smiling. Long beautiful blond hair and big smiles. I love you, honey……
God Bless,
Buck
Nov 08, 2009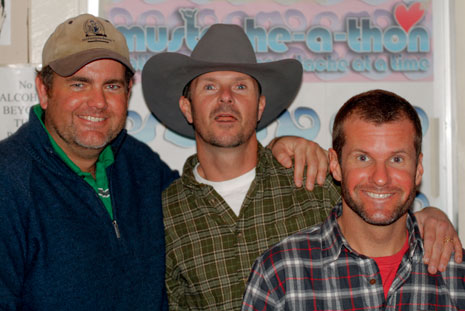 I am kinda diggin' the scruff even though I have to admit that it feels….odd. I am having to fly to the west coast tomorrow for a week of meetings, so I'm not going to be participating in Wednesday's check in at the North Beach Grill but I will email a photo of my face to Scuba for the "official" two week photo op. This Mustache-A-Thon is really a lot of fun and we're having a good time. Not having to shave everyday is pretty cool.
Days are getting brighter at the Rowlee house. Meighan and I are learning how to live with the pain of losing a child to cancer and we're managing that pain on a daily basis. Kieran is receiving counseling a couple of times a week and he is responding well to therapy. Being four years old, Kieran is not equipped to be able to express his grief over Molly's death, and Meighan and I are smart enough to know that Kieran needed to receive professional help in order to come to terms with Molly's death. Kieran is doing really well and his behavior has dramatically improved. We all talk about Molly a great deal, and Kieran is able to express his feelings about Molly more so now than ever before and our family is beginning to truly heal.
I can't speak for Kieran, but Meg and I feel Molly's presence constantly. It is a sensation that Meg and I share and that feeling is difficult to explain without sounding too "out there" so I will not attempt to elaborate. But I will mention that we know that Molly is trying to communicate with Meighan and I, and because of that Meighan and I have felt tremendously more at peace. We know that Molly is happy, she is dancing, and Molly loves to fly…..
Meg and I drove down to Boston this past Monday in order to meet with Molly's doctors in order to discuss her autopsy . When Molly passed, we didn't need an autopsy but her doctors asked for our permission to perform one on her. Meg and I immediately consented because we felt that it would enable Molly's doctors to obtain more insight in helping them get a little bit closer to finding a cure for cancer. Dr. Alex and Dr. Degar are amazing physicians, and Meg and I always felt that Molly was receiving the best care that this world had to offer. What we learned from Molly's autopsy was that when the cancer returned it spread throughout Molly's body. The cancer had spread to Molly's lungs, brain, and her bone marrow. Molly was riddled with tumors. On Monday afternoon, Meighan and I drove out of Boston in tears. We both know that Molly did not suffer, she was not in any pain when she passed away, but knowing that the cancer had consumed Molly's body to that extent only made Meighan and I feel as though we were fortunate that our baby only had to battle for five months.
There is little local girl who is battling cancer. She has been fighting for over six years, and Meg and I can't even begin to understand what her family has had to endure. This little girl has been at CHB but now she is gone home to be with her family. I don't know her folks, we have not been in touch with them, but I know that Molly is standing by…waiting to teach this little girl how to fly. Meighan and I have come to know that THAT is what Molly loves to do. Molly loves to teach. Fly, baby, fly! We will fly with you in our dreams……
Have fun, girls!
With love,
Buck
Nov 06, 2009
Update: Noah has received thousands and thousands of cards, and the family is asking that people stop sending them
_________________________
Noah Biorkman is a brave 5 year-old boy in Michigan, in the last stages of a 2 ½ year battle with Neuroblastoma cancer. His family is celebrating Christmas this weekend and Noah's request is to get lots of Christmas cards. We may be a little late, but we can keep it going for him. This is a great opportunity to show the same support everyone has given to the Molly Fund by just taking a few minutes to send him a card.