Blog
Mar 22, 2010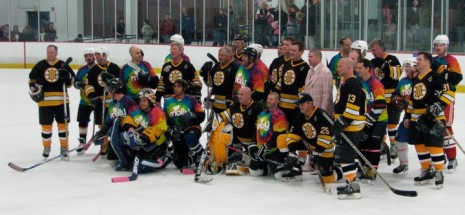 have had an opportunity to play in some big games during my lifetime. The pressure to perform in big games has caused me to lose sleep, there were times when I was too nervous to eat, but I wasn't worried the least bit about playing well against the Bruins Alumni last night because I'm not a hockey player. I wasn't nervous until I stepped out of the locker room and saw 1500 people in the stands and the boys were telling me to lead them onto the ice…
The game against the Bruins Alumni was a fund raising event. Yep, The Surfers were going to play hockey against some of the old dudes that they grew up idolizing but the fact of the matter is that this game provided us with a huge opportunity to raise a lot of money so we could continue to drive more peso's into the Molly Fund. There are families that need our help, we needed this event to be successful, and a lot of people worked very hard in a very short time to make sure that this game was won before we even had the opportunity to drop the first puck.
If you were actually keeping score, then you probably know that we didn't actually win the game. The score board had us down by a goal, 12-11, when the final buzzer sounded but that's not the point. The Surfers won the battle because so many people worked so very hard to make sure that we could have pulled off this event in the first place. With only a few short months to plan this game, it was a miracle that we even managed to step onto the ice in front of 1500 fans and it was appropriate that Dave Cropper scored the first goal for our team.
I was on the bench when Crop scored that goal and the entire arena erupted. When I heard the crowd roar, I stopped being some kook dressed in hockey equipment and I transformed into a hockey player. Yes, easier said than done but I felt like a gladiator. The vibe on the bench radiated that same feeling because at the end of the first 25 minutes, the game was legitimately tied.
As we skated off of the ice at the end of the first "half," I was wearing a Bruins "sweater." Kenny Linesman and I switched teams – seemed fair to me because by this time I was feeling like a hockey player instead of some floundering fool – but I have to confess that it was pretty rad to be sitting next to Brad Park, Jeff Lazaro, and Bob Sweeney on the Bruins bench. I pulled a few shifts with the B's, skated off the ice at the end of the "half," and I was bummed that the Bruins trainer came chasing after me in order to get their "sweater" back because I was thinking that I was going to be taking that jersey home with me. Guess not….
We, The Surfers, scored some insane goals and the Bruins Alumni proved to us all why they're ex-NHL stars. The Bruins were on another level, they're clearly from a different planet, and I didn't have to grow up playing the game of hockey to appreciate the fact that these guys are still magical even with knee replacements and no teeth.
Bruce Shoebottom is flat out scary with no teeth. Skating beside Bruce was awesome because he's 6′13, leaves his teeth in the locker room, and his hands are the size of a VW Bug. That dude has hands four times the size of mine, and we compared hand size during the after party at Margaritas in Exeter. At the end of the night, Bruce swallowed me in a massive bear hug and he vowed to always make himself available for any future "Molly games." That seemed to be the overall consensus from all of the Bruin players. They were very complimentary about everything related to the entire night. They were stoked with the crowd, stoked that they had beer in their locker room, and these guys were sincere about making themselves available for future games and our Molly Fund cause. A couple of the Bruin players told me their own stories about their family members who were stricken with cancer and how thankful they were that they were able to participate in our event. I had a sense that they truly wanted to help, they were eager to rally for a good cause, and with 1500 people in the stands last night I skated off of the ice and into the locker room feeling like I was part of something that was too big for me to completely comprehend.
The Surfers vs. The Bruin Alumni event was….perfect. Three months of trying to organize the chaos and it all seemed to work out perfectly at the last minute. Many thanks to Kenny Linesman, Bruins legend, who really made this event a reality – especially when he called Terry O'Reilly from the locker room, before the start of the game, to inform Terry that the game was not next weekend. It is lucky that Terry lives in Salisbury. Killer sandbar in front of his house! I love you, Kenny, and you're awesome! Thank you. We can't thank The Rinks of Exeter enough for all that they have done to accommodate us with the game. Thank you, Karen! Many thanks to Peter Tufts for taking good care of us and also for not whistling us for penalties during the game. Huge props to Aaron Buell and the crew at Margaritas for hooking up the after party, and please thank the Red Hook guys for the kegs! I owe you, Aaron, thank you. I can't ever thank Sara MacCorkle enough for her impeccable organizational skills and Sara was truly the one that managed the chaos better than all of us combined. We have to thank all of the volunteers that "wo-manned" the tables
and sold tickets, sold all of the "Molly" product, silent auction items, raffle tickets, worked the bake sale, and pretty much made sure that business was taken care of while we played the game. Remember, this was a FUNd raiser! I am afraid to mention any specific names because I'm fearful that I might fail to thank everyone, but you must know that it took the effort of a ton of people for this game to happen and Meg and I are so appreciative for the help. Thank you to Brock Dunn for coaching us and I hope that all of you had a chance to check out Brock's pink suit. Brock, I don't know what to say other than "thank you." Many thanks to Jimmy Dunn for running the mic and providing us with some "free" entertainment. If those of us on the bench could actually hear what Jimmy was saying, we wouldn't have been able to play because all of us would have been doubled over in laughter. Thanks to Trevor and Jared, in goal, because those two saw a "few" shots. In all sincerity, thank you all. Bless you all! We did some good. We raised a lot of money and Molly's legacy is a beautiful thing.
Molly. Molly didn't enter my mind until we all stood on the ice for a moment of silence before the start of the game. I would be lying if I said that I wasn't a little emotional because it was difficult not to get consumed by this incredible sense of "STOKE" if you were in the crowd yesterday. The atmosphere and the vibe was simply incredible. I could see it in the stands, I could see it in my teammates eyes, and I absorbed every last detail because I was hoping that Molly was there with us and that she could feel all of the tremendous energy that was buzzing through the Exeter arena. I stood beside my teammates, my surfer brethren, and I thought of Molly. Many of us had our stick blades taped pink, Molly's favorite color, and we all had Molly stickers plastered on our helmets. A few of the boys had Molly logos penned on their cheeks. Dave Cropper made sure that we were all sporting tie dye Molly "sweaters." Awesome! In retrospect, the game wasn't about Molly but it had everything to do with how Molly's battle has impacted all of us. The big picture is too big for me to truly comprehend but it's powerful nonetheless. I don't know if we will "win" the war with cancer but I do know one thing. We won a little battle yesterday in Exeter. We won.
Shoebottom hugs and Lazaro high fives!
#40