Blog
Aug 23, 2010
I woke up this morning and my face was sore from smiling and laughing throughout yesterday's "Molly Surf Celebration." The day was magical. The entire event was just epic.
Meg and I want to sincerely thank all of you that supported the Molly event. It was truly a beautiful day.
I have been flooded with emails, text messages, and FB hits from folks that wanted to let us know how amazing yesterday was and what the event meant to each of them. Wonderful words, such an unreal show of support, and after speaking with a friend of mine this morning on the phone I immediately was made aware to the fact that "Molly" has turned into a legitimate brand.
"Molly" is a brand, and Meighan and I have realized that "Molly" has evolved into signifying the strength, love, and support of a community. You cannot possibly define the word "community" by limiting that definition to only our friends and family here on the seacoast of NH because "Molly" has brought people together from all over the planet. I don't have the insight to depict the big picture, but I feel as though people are coming together in order to help other folks survive a nightmare. We all face drama in our lives. Every single day each one of us has our own nightmare that we have to endure, but the beauty of "Molly" is the fact that so many people have put their own problems aside – if only for a brief time – in order to come together to help other families. If there is one lesson that I have learned from Molly's death that has truly made me a better person, it's that you never know what's going to get thrown at you. Eighteen months ago Meighan and I had the perfect life. Perfect. In the blink of an eye our world was devastated. Life is so very precious. Kieran and Meg now define my world, they are what are most important in my life, and I honestly feel that "Molly" allows me to keep my priorities in check. I love my family, I love my community, and a big part of loving my community is the responsibility of giving back to those that need help. Molly taught me that lesson, "Molly" is teaching us all, but we wouldn't be able to do the good things that we've been able to accomplish if it wasn't for the support of our "community." We love ya'll…..thank you.
I am sure that there are going to be a lot of photos dropping onto the website that will paint a much better picture of what an amazing day "The Molly – Surf Celebration" was so I will not bore you with the lengthy details, but I will say that next year we will award those that surf in full costume. We had a group of pals, Francois' crew from Montreal, that got "dressed" up for their heat and I believe there are photos of them on http://www.ralphspic.com. I was in a heat with Brian Nevins, Johnny Grosso, Casey Lockwood, and Adam Coates and those guys were in full costume. I surfed a 15 minute heat with those dudes laughing uncontrollably the entire time - which explains my facial cramps today
.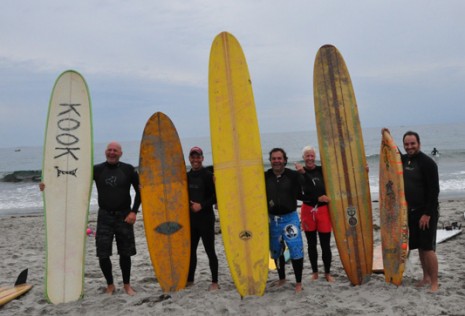 The day was just so much fun. We had 30+ groms turn out to surf in the event, there were 60 adults surfing in the event, and the beach was packed with people throughout the entire day. Our pals were helping us sell "Molly" swag, raffle tickets, and there was just an incredible amount of joy in the air yesterday. I can't explain it but you just had to be there to experience it for yourself. It was awesome – simply an awesome day.
Obviously, you can't pull off an event like "The Molly – Surf Celebration" without a lot of help from your "community." My brother-in-law, JD, and I were lying half dead in the living room last night, lounging, when he looked over at me and commented that we have a lot of great friends. Meighan and I know that we're blessed, we're so fortunate to have so many beautiful friends, and some of these folks stood on their feet all day yesterday and judged 33 heats – during some of those heats it was raining….and cold….thank God for pals
.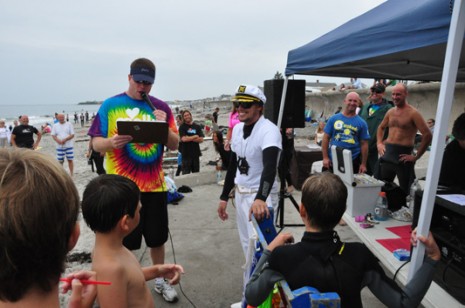 The Nichols family, Arlene and Lenny, organized the chaos of the surf event and there is no way that we could have possibly pulled off the "Surf Celebration" without their expertise along with Bob McNeil. We couldn't have run the event without the help of these three people. Much love, much respect, and many…many thanks!!
For next year's "Molly – Surf Celebration," we're all going to have to volunteer some time to pull judging duty because I felt badly for Lenny Nichols, John, Win Fream, and Mike Velstos for having to judge the entire contest. Thank you, gentlemen….I'm sorry. I owe ya'll dinner.
Food: There were A LOT of people at the event yesterday and it wasn't our intention of asking area restaurateurs to feed the world. But some folks stepped up to plate and donated a lot of food for the event and I cannot possibly thank them enough for the unreal support. Bella Rose Pizzeria, Market Basket (Kettenbach family), Jumpin' Jack's Java (beach location – thank, Nick!) and Secret Spot rallied for the event and provided an assortment of fantastic grinds. Thank you so much, gang! We must mention and give thanks to the Flatbread Company for donating the awesome gift cards as raffle items.
Daniel Pullen is a friend of mine from NC, a talented artist/photographer, and Daniel donated several wave prints as well as a mounted photo that we raffled off in order to raise a lot of money. Bless you, Daniel. Hannah Vokey is a local artist that donated a "wave" painting that we're going to use as a silent auction item because I have a hard time raffling off a $1200 piece of art. If you're local, you can view some of Hannah's art at KB's Bagels. I am going to take the piece to Stevie at Pioneers where he'll display the painting and hopefully some wonderful person will buy it and the proceeds will benefit The Molly Fund. Dean Hager, this painting will look INSANE in your "man cave!" We'll have to work on Karen…..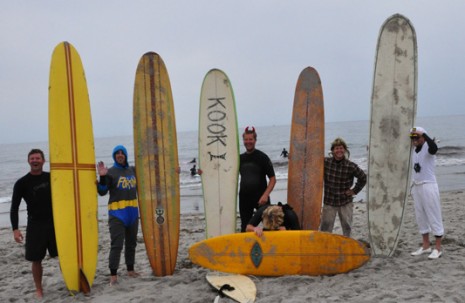 We raffled off Scotty Lago's contest ridden snowboard because the groms were begging for it to be offered up in the raffle. Scotty, as many of you know, took the Bronze Medal in Men's Halfpipe in the 2010 Olympics. The kid is a Seabrook local and he offered up his board in order to benefit the Molly Fund. A little grom won the board, he was so amped, but he was also bummed that the board was too big for him to ride. RIDE?!?!?! Dude, you have to hang that on your wall!!!! Much love, Scotty. Thank you, brother….
There were a few of us "Oakley" guys around yesterday, which explains all of the Oakley branded tents and tables, but I have to thank my pals at Oakley in CA. for hooking us up with the Custom Oakley "Molly" sunglasses that we sold during this event. Mark Wakeling, Andy McCollum, and Aaron Quigley made the impossible happen by getting these glasses made in a four week time frame. Their effort was amazing, thank you so much, and thanks to all of you that bought some "Molly" glasses yesterday because it was so great seeing so many people wearing their new glasses at the event.
Huge props, and many thanks, to Chuck White who always designs the "Molly" fliers and Chuck is the marketing wizard behind the "Molly" brand. We must thank John Adams, ODI Imaging, for his generosity in printing the posters for the Molly event. Truly, thank you, fellas!
How funny was Jimmy Dunn on the mic – commentating during the surf event? Hilarious!!! I was laughing so hard at one of his jokes, about our French Canadian friends, that I spit food on a kid that was sitting in front of me. For those of you that don't know Jimmy Dunn, Jimmy is a world renown comic that just so happens to be a Hampton local. The guy can surf well, but Jimmy agreed to MC the event and he provided the color commentary and kept the crowd entertained while we flailed in the surf. So funny! Thank you, Jimmy!
Just for the record, Ralph Fatello surfed in his very first contest on Sunday but he didn't know that he was being judged. Ralph was on the beach with us all day, taking photos and documenting the event, but he paddled out with us for the Men's Final in order to catch his one wave for the day in order to keep his "Catch a wave for Molly" streak alive. It was a five man final, but Ralph made six because he paddled out with a bunch of pink balloons tied to the back of his wetsuit and the judges thought that Ralph made the final. Classic! Ralph caught the last wave to the beach, it was the last wave of the event and therefore; Ralph "officially" was a contestant. Thank you, Capt. Ralph….for everything.
Thank God for pals. That statement seems to make its way onto the page a lot when I write about "Molly" events, and the support that we've received, because it's so very true. Thank God for our pals that volunteers their time to make sure that each event is successful. Thanks to all of you that "bucked up" and participated in the "contest," and thank you to everyone that donated the boards for us to use during the surf event. It takes an army to pull off an event, and we're blessed to not only have had an army beside us when Meg and I were facing Molly's fight but we're lucky to have so many wonderful friends that volunteer their time to help us with the "Molly Fund Events." Thanks to all of you that made it out to the beach in support of the event. The list is long, and we would feel horrible if we failed to mention one single person, but please know that Meg and I truly appreciate your willingness to help and your constant show of support. Thank you. Bless you. We love ya'll so much….
Erica, next year - please keep that G&S "thing" at home….
I had the microphone in my hand for the closing ceremonies. I said a few words about the event, but I was really on the mic in order to present the trophies to the finalists in the surf event. I had more than a dozen kids in front of me; all of them fully stoked knowing that they were going home with a trophy that night. That was the best part of my day, honestly, because the smiles on these kid's faces were incredible. So stoked! I did my thing on the mic, we hustled and packed up before the rain began to pour, and on the drive home I felt goose bumps on my arms and legs. Molly. She was beside me, riding shotgun, and I closed my eyes for a second to imagine her smiling as big as the smiles I saw from Allie and Sophie…Gavin and Christopher…..Kai and Kyle. It was a glorious day, a fabulous event, and I smiled all the way home. Happy birthday, baby girl.
With love,
Buck
Cowabunga!