Blog
Feb 27, 2011
Just a quick note that you can click on the Bruins vs. The Surfers hockey game flier on the right and that will direct you to the online Pay Pal account where you can purchase your tickets for the game on March 13th.We need a crowd!! So we're hoping to see many of you at the Whitt Center at UNH for the big game. Please join us for an incredible day!
Feb 20, 2011
We never stop moving here, and we're going to maintain a perfect streak of collaborating with the best vendors. So here's the new stuff, just in time for this weekend's party:
Molly Send-off Hand Silkscreened Posters
We don't ask too many favors, but we knew the great people at JDK would come through for something like this. They're an overly-talented design firm in Burlington, VT and they have their own screenprinting setup in their basement gallery called Iskra. Michael Jager got the ball rolling, and Leo Listi and Matt Mayer got down to business to print us a batch of event posters to help the fund raise some money. There's a lot of time, effort, and materials in doing something like this, and JDK / Iskra donated all of that and we couldn't be more grateful to them. They're 15" x 21" and they're gonna look pretty darned good framed up on your wall. This is a very limited, very special batch. Once I have a final count tomorrow night they will be put on the site for first come, first serve buying, and you can pick them up from me on Friday or Saturday in person if you're coming to the event. Otherwise, they'll be shipped in a tube next week.
Griffin x Inkswell x Molly iPhone Cases
So can it get better? This is an awesome collaboration between Griffin (the best iPod accessories you can get), Inkswell (customize your accessories to make them better), and the Molly Fund. Griffin generously donated these cases to the cause, and then Alex Birch from Inkswell took over to imprint them with heavy-duty Molly logos. Both companies donated their time and materials for this first batch so we could raise some more money, and they came out perfect. Get all the specs for the case here. By the way, we're not just saying the Griffin accessories are the best because they donated. Grab any case and compare the perfectly snug fit to your iPod or phone to anything else out there, and the Griffin ones will never have any jiggle to them...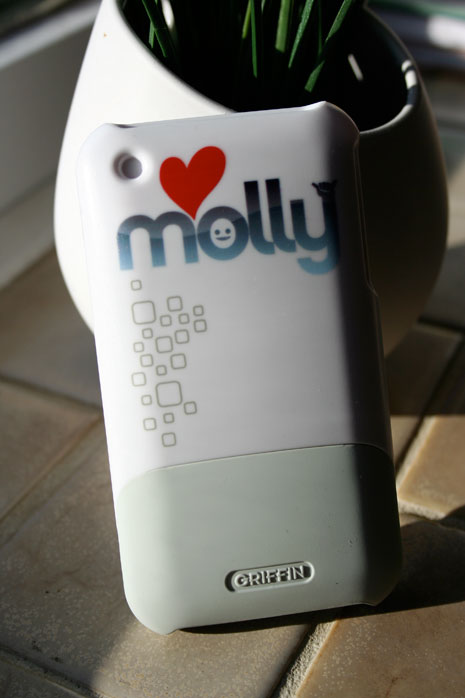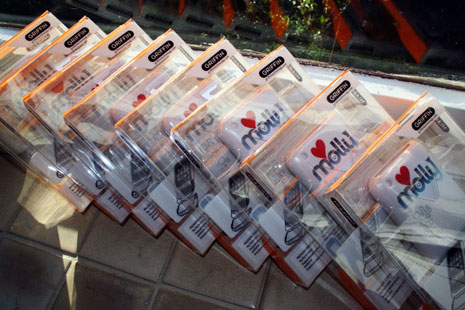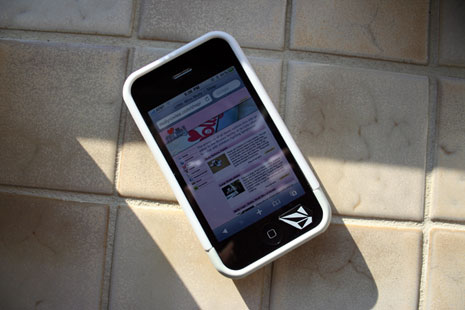 Both items will be $30. We can't thank any of these companies enough, so go give them some business already:
Thank you thank you thank you.
Feb 02, 2011
GOOD NEWS!!!! The Molly Fund received its official 501 (c) 3 tax exemption status from the IRS this week and we couldn't be more stoked. Meighan and Karen Hager, as well as several other good folks, have put in an incredible amount of time and effort into working through the application process and it feels good to finally have locked down the "official" non-profit status. Game on!......
March is right around the corner and that means that we're nearing the time of the year when we are conducting a few action packed Molly Fund events in order to raise money for the Foundation. We have set up the Molly Rowlee Foundation at the Jimmy Fund Clinic and we're working with the folks at Dana Farber who will be responsible for allocating the funds to families that are in need of financial assistance. The Molly Fund will be a blessing to so many families and we should all feel good about helping those in need.
I know that I've written about this before, but I think that it's important to explain why Meg and I were compelled to continue with the Molly Fund after Molly's death. Meg and I were fortunate, and we realized this very quickly, when Molly was diagnosed with Lymphoma. We were lucky to have good insurance, a few bucks in the bank, but we met many parents at CHB that were financially devastated when their child was diagnosed with cancer. We met folks that were bankrupt, close to losing their homes, because of the daunting medical bills. Meg and I met parents that were struggling to cover the additional expenses of gas, food, and the loss of income due to the fact that many parents had to take time off from work in order to care for their child. That is not fair. It's just not right….
There are so many incredible organizations that are raising money for childhood cancer research. That is wonderful, and I'm sure that one day a trillion dollars raised will enable us to find a cure for cancer, but we're focused on raising money that will directly impact the lives of the parents that are NOT ONLY faced with the daily horror that their child has cancer but who are also worrying about how they will scrape together the extra money for parking, food, and gas. The Molly Fund is in place to ensure that some folks have a few extra dollars for gas, a hot lunch at CHB, and maybe cover a bill or two. The Molly Fund is about families helping other families – parents helping other parents. Kids setting up lemonade stands on the streets in order to help raise money! I remember when the Bohenko twins, Molly's little pals, handed me a plastic baggie with $20 that they raised for the Molly Fund and I came to the conclusion instantly…….THAT is what the Molly Fund represents. EVENTS!!!!
The Third Annual MOLLY RAIL CONTEST is happening under the lights at Smuggler's Notch on March 5th. Many thanks to my good pals, Emmet and Paige Manning, for running point and setting up this event and we expect a HUGE turnout. We will be camped up there all weekend so we hope many of you will join us because we're going to shred, party, and…celebrate Molly. Please keep in mind that this event caters to the old dudes too…because I'm an old guy and I'm not about to taco myself by hitting some kinked rail. We are planning on a "MASTERS" downhill event that will utilize pre 1991 snowboards so that we can add a bit of "WUSR" (Washed Up Still Riding) flavor to the event. Please stay tuned as more details will follow in the next few weeks.
Get stoked to shred! BOSTON BRUINS ALUMNI vs. THE SURFERS, March 13th at the Whittemore Center at UNH!! Yeah, that's right; we're going to be throwing down with the Bruins at UNH this year! Please save the date because we need a HUGE turnout for this event in order to pack the place. We are still in need of locking down a few more players for this event so if you're interested in playing, AND FUNDRAISING, then please send me an email (.(JavaScript must be enabled to view this email address)). I will post more details as we get closer to the date but we really need for everyone to come out and support this event because we have to pack the Whitt Center!
I was in Denver last week for a tradeshow, SIA, and I had a chance to catch up with a lot of old pals. We all lost a hero when Krista was taken from our BVT13 family last year after battling cancer. But before Krista passed she sent me an email promising me that she would take care of Molly for me in Heaven. God, I can't hold back the tears when I talk about this, nonetheless write about it, but I am truly comforted knowing that Krista is holding Molly's hand and she's teaching Mol how to be a bad @$$. Come to me in my dreams, girls. Goat woods. Molly is shredding….Families helping other families. High five! XXOO Buck