Blog
Mar 20, 2011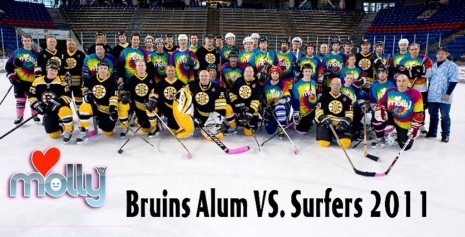 Cleon Daskalakis, Boston Bruins Alumni goalie, is probably losing sleep over the fact that I scored a goal against him last Sunday during the mighty battle between The Surfers vs. The Boston Bruins Alumni at the Whittemore Center at UNH. I won't bore you with the details of my goal, so if you're interested in the specifics then you're going to have to speak to someone who was at the game and witnessed my heroics in order to get the full scoop, but I will say that there were some shenanigan's involved….
I love hockey and I absolutely love that the Boston Bruins Alumni brought their "A" squad to UNH because it was obvious to the 1500+ fans that attended the game why those Bruin dudes played in the NHL. Bruins legends, Rick "Nifty" Middleton and Kenny Linseman, are friends of mine and they both live in Hampton. It was Kenny who originally suggested that we use the hockey game as a fundraiser and the event has turned into a grand affair. The final tally of the money that we were able to raise during this year's game is still not finalized, because money is still coming in, but the estimate is that we'll have risen over $20,000 with the hockey game event. Yeah, pretty awesome.It is also pretty awesome that we're blessed to have a community that stands beside us and helps us facilitate not only the hockey game but all of the "Molly" events that we organize throughout the year. Meg and I can't possibly run the Molly Fund by ourselves, it takes an army, and there is a tremendous amount of work and a certain element of stress involved in order to make each event successful.
This year's hockey game was a huge success and it had everything to do with the fact that a great number of people worked together to ensure that we sold enough ads in the game program to cover our overhead and be profitable. We all beat the bushes and sold as many tickets to the game as we possibly could sell. We had a posse of our close friends, volunteering their time to work at the game, that sold tickets….peddled "Molly" swag….hammered folks to buy 50/50 raffle tickets and if you attended the game then you can easily understand what I'm referring to because it takes a battalion to pull off a Molly event. Thank you.
Thanks to my teammates. The Surfers can play hockey. We have guys that grew up playing the game, we're athletes, most of us are fit, and some of my teammates played college hockey and a few played at the next level. The Surfers had to make a serious commitment in order to participate in this year's game. We all had to sell ads in the game program as well as a lot of tickets to the game, and we also had to make time for practice because WE HAD TO PRACTICE in order to prepare ourselves to face off against Bob Sweeny, Jeff Lazaro (who has to be the fastest 40 yr old guy in the world!), and Ken Hodge. We assembled a Surfers team that could easily dominate in any men's hockey league on the planet and we still got smoked by a bunch of old NHL farts. Rick Middleton and Kenny Linseman are OLD…and these guys still made us look silly.
Brad Park! Mr. Park is 250 years old, a member of the Hockey Hall of Fame, and he can still skate circles around even the youngest member on our team (which happens to be a 17 year old stud). Thank you to my fellow Surfers as well as to the Bruins Alumni for not only supporting our event but also for being genuinely concerned that the Molly Fund is successful. Thank you, boys!There was a conflict with the schedule this year and we couldn't play at The Rinks in Exeter, so the fine folks at UNH rolled out the red carpet for us and provided us with incredible hospitality at the Whittemore Center. I can't speak for my fellow teammates but I felt like a kid again by having an opportunity to skate on the UNH ice. Thanks to Griff and Carrie for all of their wonderful help, and please root for our Wildcats next Saturday as the UNH boys play Miami (OH) in the first round of the NCAA Tourney at the Verizon Center in Manchester, NH. I am fearful that I could possibly miss mentioning anyone that volunteered their time to help us at the game, so please accept our gratitude for continuing to help us with all of the Molly events.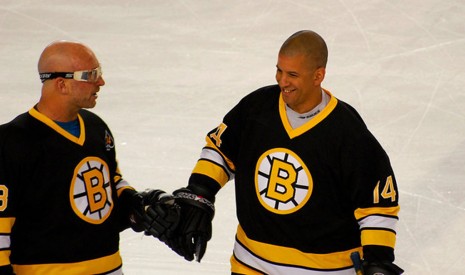 Thanks to everyone that attended the game, it was an awesome crowd, and thank you to all of the businesses that bought ads in the game program because we couldn't have run a successful event without your contributions. Many thanks to Sara McCorkle for the PR help as well as Karen "Hurricane" Hager for making sure that we're constantly focused on dotting our "i's" and crossing our "t's." We love you, Karen, and you're amazing. Thank you.My wife is a goddess and Meg ran point in organizing this year's game and she was incredible. We dumped a lot of work on her plate and, at the end of the day, Meg shined. Meg sold a ton of ads, made sure that all of the ads were in place, and collected all of the money. This year's game became Meg's full time job and I couldn't be more proud of the fact that she hustled under pressure and made the entire event come together perfectly. I love you, baby. Thank you for dealing with the chaos!
After the game, we all headed to Margarita's in Dover for the after party. Thanks to my pal, Aaron Buell, for hooking up the Margarita's bash and we had a good time hanging out with our friends, as well as the Bruins, and I was still amping even after I had settled down and was lounging on the sofa at home. Meg came into the living room and told me that the best part of the day was watching me, surrounded by a group of kids, signing autographs for all of the groms after the game. I had to laugh because it didn't have anything to do with the goal that I scored but it absolutely had everything to do with my 10 minute celebration after my goal that those kids remembered!! Remember to celebrate. Celebrate Molly!!! Thank you and bless you all! Buck