Blog
Feb 11, 2012
I popped into a convenience store the other day and the girl behind the counter must have recognized me and she told me that when her mother was visiting her from Mississippi this summer they were walking the beach when we were having The Molly Surf Celebration in August. Her mother bought a Molly sticker which is pretty cool. The girl told me that her mother pulled into the parking lot of her local grocery store, not too long ago, and her mother parked beside a car that had two Molly stickers on the back window - one pink and one white. Even in Mississippi we have folks representing and showing support for The Molly Fund and that's awesome.
That little story popped into my head when I was driving around Hampton checking the surf this morning because I saw Molly stickers everywhere. I was stuck behind a truck at a stop light and the guy had a Molly sticker on his back window. I pulled into the lot at Jenness Beach and there were a few cars parked with Molly stickers on their cars. Of course, many of the cars and trucks belong to pals of ours but I'm constantly surprised when I see so many Molly stickers on cars that I don't recognize. Every once in a while I catch myself daydreaming when I see a Molly sticker and I think of her. This happened today when I was stuck behind the truck at the light in front of Cinnamon Rainbows. I could feel Molly's presence and I looked over at the empty seat beside me and smiled. Molly is everywhere….
In a little over a month from now, we're going to be blessed with the birth of a baby boy. Meighan is so very pregnant and absolutely beautiful. Meg and Kieran have been "wintering" in Wrightsville Beach, NC while I'm traveling so much for work. I spent a few days down there last week and I was amazed that Meg is radiant – totally glowing – and I've never seen her so gorgeous. I am flying down there next weekend and driving them back to NH because it's time for them to come home. Vacation is over, baby!. The fact that Meighan and I are going to have another child is nothing short of amazing. February 14th marks the date three years ago that Molly was first diagnosed with cancer. It's been a tough few years, I'm not going to lie, but when Meg came to me with, "Hey, what do you think about having another baby?" That is the very moment that I knew that we had survived the nightmare of Molly's death. "ALL IN, BABY!!!!!" We conceived immediately. God has a plan, I reckon.
I am not preachin', because that is definitely not my style, but I can't help but be thankful that the Lord is allowing me the opportunity to be a better father to our baby boy right from the get –go. I don't have many regrets in my life but when Molly and Kieran were born I was so wrapped up and completely consumed with my career that I totally blew it. I wasn't getting up in the middle of the night to tend to my babies because I was getting up at 4:00 a.m. to drive to Richmond, VA. I can cite a hundred examples of @#$% that I blew off at home, when the kids were tiny, because I needed to be on the road growing my business 30%. God has a plan and I'm determined not to screw up this time. Thank you, Lord, for giving me a third chance to make things right. Meg will definitely need a wrangler with this one …..
The Molly Fund is a priority in our lives and we're all about paying it forward with the help of an ARMY of pals that continue to go above and beyond the call of duty to help us raise money for families that have little ones battling cancer. Meg and I are fortunate to be surrounded by love and support but it breaks my heart when I learn that many of the families that The Molly Fund helps does not receive the same emotional or financial support. We all live chaotic lives. The majority of us have demanding jobs that require us to work well beyond the 40 hour work week norm. But we find time to make the Molly Fund magic happen because God forbid that the nightmare, that Meighan and I survived, could totally financially devastate another family faced with the same situation. Meg and I are blessed on so many levels that it brings tears to my eyes because it was only three short years ago that our lives were completely devastated - TOTALLY DESTROYED. But we have survived. We managed to make it safely to the other side and life is good but we have an ARMY of people that we owe our lives to because those folks embraced us and dragged us to safety, through the darkness of Molly's death, and it's a priority for us to…pay it forward. Thank you all for the continued love and support of the Molly Fund. God has a plan….
We need to continue to help drive money into The Molly Fund and March is action packed with a few key events. The first event on the radar is February 24th in Burlington, VT. One of my previous Burton regional team riders, Jason Leuck, is now a student at the Albany College of Pharmacy and Health Sciences in Burlington and he's rallied a silent auction to benefit The Molly Fund and I will be making the trip up I-89 to attend the event.
The Fourth Annual Molly Rail Jam is going to happen again at Smuggler's Notch, VT, on March 2nd and Paige, Emmett, and the entire Manning clan will be running point again this year to ensure that the event is a success. Kieran and I will be up there shreddin' the gnar and Kieran is super stoked for the trip. I imagine that this will be the year that Kieran "Cowboys up" and hits his first rail. Epic…..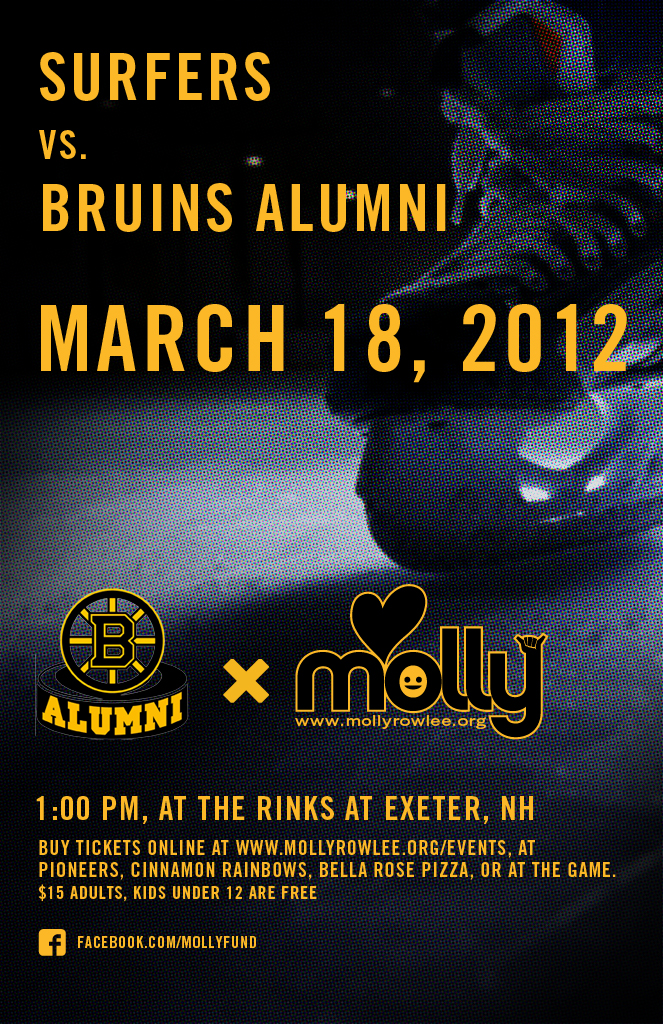 The HUGE event that we have on March 18th will be The Surfers vs The Boston Bruin Alumni, and this year we'll be returning to The Rinks at Exeter, NH where we know that we'll be playing in a standing room only crowd. Please mark your calendars because the game will be at 1:00 p.m. and you can score tickets at the game or by swinging by Pioneers, Cinnamon Rainbows, or Bela Rose Pizzeria. Please join us for the game where you can cheer on your favorite old time Boston Bruin stars or watch me score another epic goal. Did you see my goal last year?!?. It was epic……
Thanks again for all of the wonderful support and we hope that you join our efforts to help "pay it forward." There are families that need our help and….it takes an ARMY to make the magic happen.
God bless hugs, and high fives!
Buck