Weather couldn't have been more perfect for the second annual Molly Rail Jam at Smuggler's Notch. We had bluebird skies and 50 degree weather that let us set up our silent auction at the base of the hill, along with a huge grill loaded with meat. We had a nearly-full turnout of 39 riders and thanks to the Manning clan, everything ran pretty smoothly. There was lots of great riding, everyone angling to get one of the beautiful trophies made by Gary Blodgett for the event.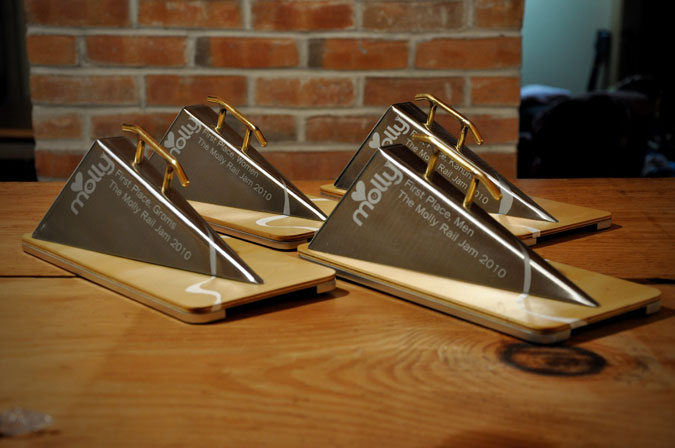 The results for each of the four categories were as follows:
Men

Seth Levin
John Murphy
Charlie Shea

Women

Laura Rogoski
Ty Walker
Jessa Gilbert

Groms

Keegan Hosefros
Nate Dugan
Wyatt Shea

Kahuna

Ray Wells
Brandon Halberstadt
Honorary 3rd Emmet Manning (wounded in action)
Thanks
I have never had the pleasure to meet Bob Walker before March 5th. We shared mutual friends, but in truth the Walker or Rowlee families never had a chance to hang out before last Friday night. We were total strangers. The reason why this is an important detail is because Bob Walker owns a meat business in NYC and the Walkers have a house in VT. Bob not only donated all of massive amount of incredible food for the Molly Rail Jam, but he also spent the entire day standing over the hot grill cooking meat and Bob served hundreds of people that attended this event food for free. Free. Bob, you are a magical person. Thank you.

Gary Blodgett is probably the biggest legend that you've never heard of unless you run in certain circles. I have never had the pleasure to meet Gary personally, but we share many mutual friends. Gary is a fabricator and an artist, and he designs trophies that are won by professional snowboarders in some of the largest snowboarding events on the planet. Gary designed and built the trophies for this years Molly Rail Jam, and Gary refused to accept any money for his creations but Chuck White felt that he couldn't walk away without offering Gary a few dollars in order to show our appreciation. Contest organizers pay Gary Blodgett thousands of dollars for the same type of trophies that Gary basically donated to us for the Molly event. If you were one of the fortunate riders that won a trophy this past weekend at the Molly Jam, you should cherish that award for the rest of your life. Gary's trophies are priceless. Gary, you are a beautiful human being. Thank you.
Chuck White used to be my Salomon Snowboards rep back in the early days and that's how we first met. Chuck transitioned from the rep side of things with Salomon into a marketing role. The brand moved him out west for a few years, but then one day he reappeared in front of me while I was slinging product at Pioneers and Chuck needed a surfboard. Game on. Tara was with Chuck by this time and then after a while we all became fast friends. After a few years, Chuck became a marketing honcho at Burton when I was first hired and I remember those days well. I was like a deer, caught in the headlights, and Chuck often had to talk me down off of the ledge because I was so green. I can laugh now, but nine years ago I would have lost a lot more sleep if it hadn't been for Chuck and Tara's guidance. Chuck and Tara are beyond beautiful and they have been by our side from the very first moment that Molly was diagnosed with cancer. I don't know that many of you realize that Tara is a nurse practitioner at Penn, and Tara was so very helpful to Meighan and I when we needed some medical jargon translated into layman's terms. Chuck and Tara were by our sides when Molly's condition was quickly deteriorating last July, and these two provided us with an incredible amount of hope during a time when hope had absolutely no meaning. Chuck designed the Molly website, he continues to keep the site updated, and he's been instrumental in making sure that all runs smoothly. From the Molly logos, tees, and bracelets, Chuck and Tara have had their hand in it all. They are running the show, and I can't even begin to thank Chuck and Tara for all they have done because I wouldn't know where to begin. Meighan and I are able to wake up each day and live because Chuck and Tara have provided us with the strength to do just that....live. We can't thank you guys enough, and we love you dearly...
Smuggler's Notch didn't have to let some random fund raising event invade their mountain on one of the busiest weekends of the year. Smugg's totally rolled out the red carpet for us and they did everything humanly possible to ensure that the Molly Jam was perfect. Thanks to the mountain, thank you to the Smugg's Ski and Snowboard Club, and many thanks to Rick Witham for all of his help and his total awesomeness. You rule, Rick!
I have known Brandon Halberstadt since he was a grom at Pat's Peak in NH. I keep my eye on this kid, even though he's really not a kid any longer, because over the years we have shared some memories together. When I left Pioneers to take over the Burton gig in the Southeast, Brandon replaced me behind the counter at the shop. After a few years with Burton, I showed up to a summer sales meeting only to see Brandon working for Chris Copely with Burton in New England. Brandon is a rock star and he agreed to road trip it to Smugg's on Saturday in order to MC the event. Brandon showed up with his parents in tow, I made a quick run with them, and it's obvious to me that this kid has been raised by some wonderful parents. I love you, Brandon. Thank you, brother.
Emmett and Paige Manning are my role models and I aspire to be as awesome as a parent as either of these two. They are incredible, and if you know these two then you will quickly agree that Emmett and Paige are "next level" parents. They have raised six kids! They have raised six fantastic kids and they taught them all to snowboard! Gary should make trophies so we can hand them out to Emmett and Paige! Paige organized the entire Molly Jam event and Meighan and I can only offer up a simple "thank you." Emmett taught a few kids to shred on Saturday, he spent a lot of time cooking meat and serving food, EM was the man behind the scenes, and Emmett even sacrificed himself so that Ray would have some competition in the "KAHUNA DIVISION." Please scan the photos for the guy in the sling. That is EM. Separated shoulder. The down/flat/down rail is evil..... Thank you, EM! Thank you! The Mannings deserve huge props. Thanks to Shay Manning for all of her admin expertise, and thanks to the boys for their help on the hill....
The Manning boys. I have known Connor, Ryan, and Keegan since they were groms too. One of my favorite Connor and Ryan memories are of us going heli shredding in Whistler BC while we were at a Burton meeting. Connor and Ryan were at the meeting in Whistler working for their dad, Emmett, and there just happened to be two open seats on a heli trip. These kids got the call. I was sitting in the helicopter with Ryan and Connor as we were flying around the glaciers looking for good lines and these kids were amping!!!! Poor Keegan was probably stuck at home, unaware that his big brothers were on a Burton sponsored heli trip, but these three Manning boys gave us a big hand by judging the Molly Jam contest and they were well qualified to do so. Connor and Ryan are currently pro judges and they earn a considerable amount of money traveling the world and judging pro events. These three guys judged the event for free. Thank you, fellas. You guys are unreal...
The Second Annual Molly Rail Jam raised over $3,000 and we consider that a huge success. There were countless number of volunteers who need to be thanked. Thank you. Thanks to Green Mountain Coffee Roasters, Turtle Fur, Monster Energy Drink, Cholua, Smuggler's Notch Inn (that hooked us up with the killer deal), and many thanks to all of my good pals at Burton Snowboards who not only rallied in full force in order to show their support but they also donated a ton of product for the silent auction. Thank you, 80! Much love to you all.
A lot of my New England industry friends stepped up to the plate and they were the ones that donated a lot of the other product for the silent auction and they deserve big props and many thanks as well. Mahalo to Mark Wakeling from Oakley, Chris Piatek from Pro Tec and Coal, Brad Haverly from Flow, Paul Danchek from Volcom, Colin Madden from Neff, Matt Jagerman from Forum, Special Blend, and Neff, Stu from Rome, The Hayes Brothers, Mike Saras from Da Kine, Danny and Steve Clayton from Spyder, Hippie Tree, and Arnette, and Lynwood Cherry from Brackish. If I failed to mention someone, please don't take it personally. We are truly fortunate to have the support of so many people and we can't possibly thank you folks enough for your generosity.
I have to thank Nick Scofield for being with us in spirit even though Nick was unable to attend the Molly Jam. Be strong, brother. We love you.
I have been trying to conjure up something insightful to write for the past few days on why so many people, many of them strangers to Meighan and I, would rally together in order to pull off such a great event and I really don't have an answer. Molly was only five when she lost her battle with cancer and she could not have possibly made that much of an impact on so many peoples lives that they would be inspired to sacrifice a weekend in order to spend some time lending a hand at a charity event. My only guess is that it could only be love. We, as parents, love our children with about as much passion as you can possibly imagine. We try very hard not to think of what our lives might be like if we lost a child, and the love that we have for our children inspires us to help families that have experienced that nightmare. I have been to hell, Meighan and I have experienced the horror of losing a child, and I can honestly say that the Molly Foundation has provided Meighan and I with the opportunity to focus on helping other families instead of our own grief. We are grieving still but the fog is beginning to lift. The work that we're doing with the Molly Foundation has allowed us to heal from the pain of losing our daughter to cancer, and it's wonderful to have many dear friends working with us to ensure that Molly's legacy continues. We are doing some good. Thank you all......
See the set of images on Flickr with hi-res versions.
All The Other People We Need To Thank
We received lots of support from lots of people, so many in fact we hope we're not missing anyone.
Paige Manning and the entire Manning Clan - Emmett, Shay, Connor, Ryan, and Keegan.
Smugglers Notch Resort
Gary Blodgett - Colorshack Fabrication
Smugglers Notch Ski and Snowboard Club, especially Rick Witham!
The Walker Family
Green Mountain Coffee Roasters
Turtle Fur
Monster
Cholula
Brandon Halberstadt
All the volunteers and all the riders in the event
Smugglers Notch Inn
Oakley
The Burton Sales Crew
Volcom
Rome
Forum
Flow
Neff
Eesa
Vans
Coal
Capita
DC
Dakine
Coal
Flow
Brackish
Pro Tec
Spyder
Hippie Tree
Arnette