Blog
Mar 23, 2014
Kieran and I were in NH last week in order to see some good pals and hang out for a few days before making our way to VT for the Slash and Berm event at Killington which benefitted the Molly Fund. I accepted a new job in October and the position required that we relocate back to NC, so we packed up our house in Hampton and moved to Carolina Beach in November. We miss our friends terribly, and Kieran was super stoked to be able to sneak away and make the trip to NH/VT with me in order to hang with his BFF's for a few days. While I was in Hampton, I was reminded just how incredible the Molly Fund has grown over the past five years because everywhere I turned there was a vehicle with a Molly sticker plastered on the window or rear bumper.
A few short years ago, whenever I saw a Molly sticker I immediately thought of my little girl. I would see her smiling face and I would feel the pain of her passing. But now my feelings have changed. The Molly sticker, to me, represents family and all that is important in my life. When I see a Molly sticker, I am reminded of my beautiful family and the blessings that have been bestowed upon us. It's easy to spray, "family first." That is a romantic catch phrase and I often have to keep myself in check and focus on the "work, life, balance" mantra because it's easy to get too caught up in the daily grind and the chaos of making a living to support your family. The Molly sticker symbolizes what is important in my life: Family, Community, and Love. Last week Kieran and I did a hot lap through New England in order to get our dose of that magic....
The Molly Fund has evolved tremendously since 2009. We have seen countless friends and organizations embrace the magic of The Molly Fund and launch their own FUNraisers to benefit The Molly Rowlee Foundation (Molly Fund). Our good friends at KB's Bagels, in Hampton, host an annual feast that benefits The Molly Fund. Phil is a Hampton local and he flips the tab for catered Italian feast and the donations accepted go towards The Molly Fund. This year Phil and the KB's crew raised well over $1,000. Michael Gerardi owns Mountain Dogs Ski and Snowboards in Plaistow, NH. For the past four years, Michael hosts a pre-winter bash in order to hype the upcoming shred season and get everyone stoked for snow. There is a ton of food, silent auction and raffle prizes, and they always premiere a few new snow movies. Michael uses his event to benefit The Molly Fund and this year Mountain Dogs raised over $2,000. Pretty cool stuff…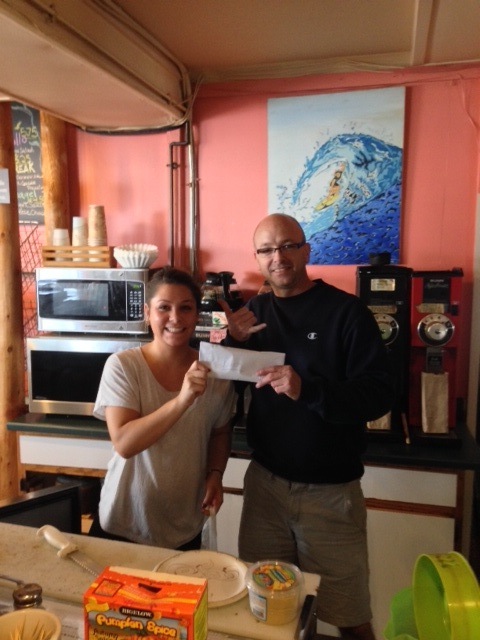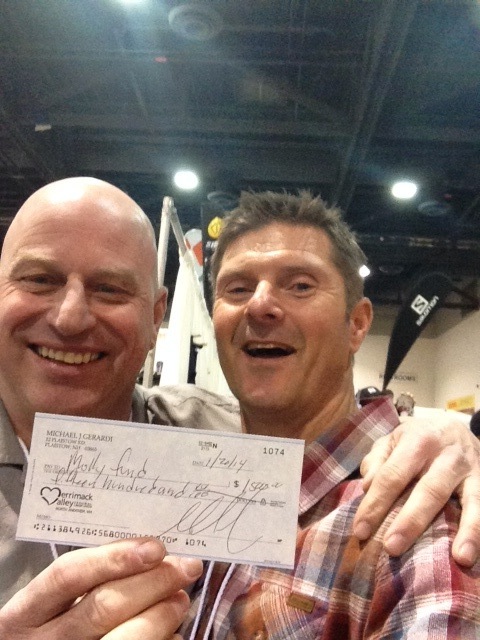 The NH Seacoast community rallies behind Molly. Local surf shops, Pioneers, Cinnamon Rainbows, Summer Sessions, and Zapstix sell Molly stickers and bracelets. Bella Rose Pizzeria (RIP) does the same, and Sean Correll took it a step farther and named a pizza after Molly and the proceeds benefit The Molly Fund. It is absolutely humbling to see so many beautiful people go above and beyond the call of duty in order to raise money to help folks, people that they will never meet, who have children battling cancer at Children's Hospital – Boston. That Molly magic extends far beyond the boarders of NH, and that's the reason why Kieran and I hopped a flight to NH last week because the fine folks at Killington and Smuggler's Notch played hosts to two amazing events that raised a good chunk of change for The Molly Fund.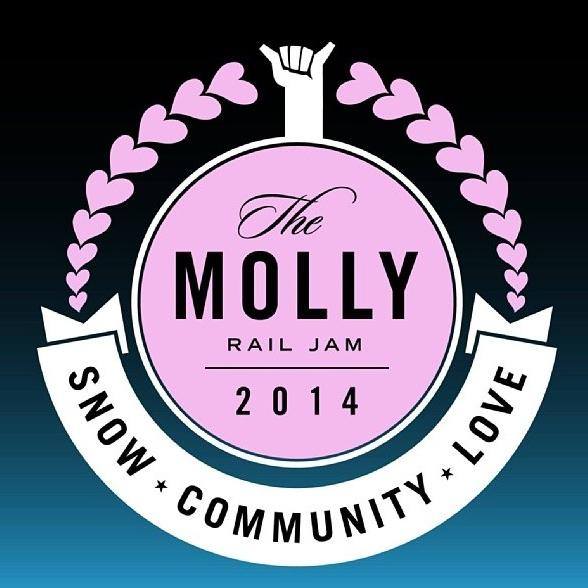 Paige & Emmett Manning run point for the Smuggler's Notch "Molly Rail Jam" event on March 15th, and we can't begin to thank the entire Manning clan and Smugg's for creating such an impactful contest that is more focused on the snow community and having heaps of fun as opposed to your standard "contest." What is truly magical about the Smugg's event is that there are a handful of lil' rippers that go out on their own and FUNraise for The Molly Fund. Harper Oliver leads the charge and this little girl raised over $2,500 for The Molly Fund. Harper and her posse have embraced the spirit of the Molly Fund, they were inspired to lend a hand, and these kids exemplify what The Molly Fund has evolved into over the course of five years. Harper and her pals are heroes. Thank you, gang.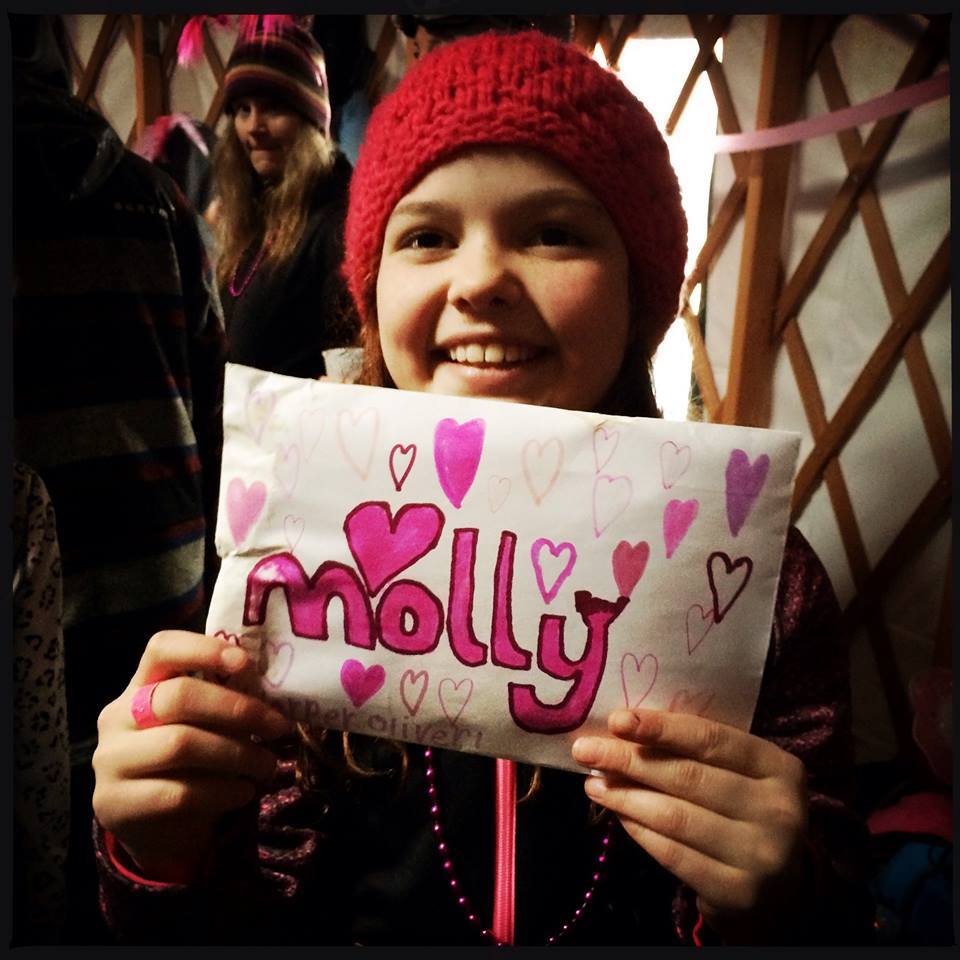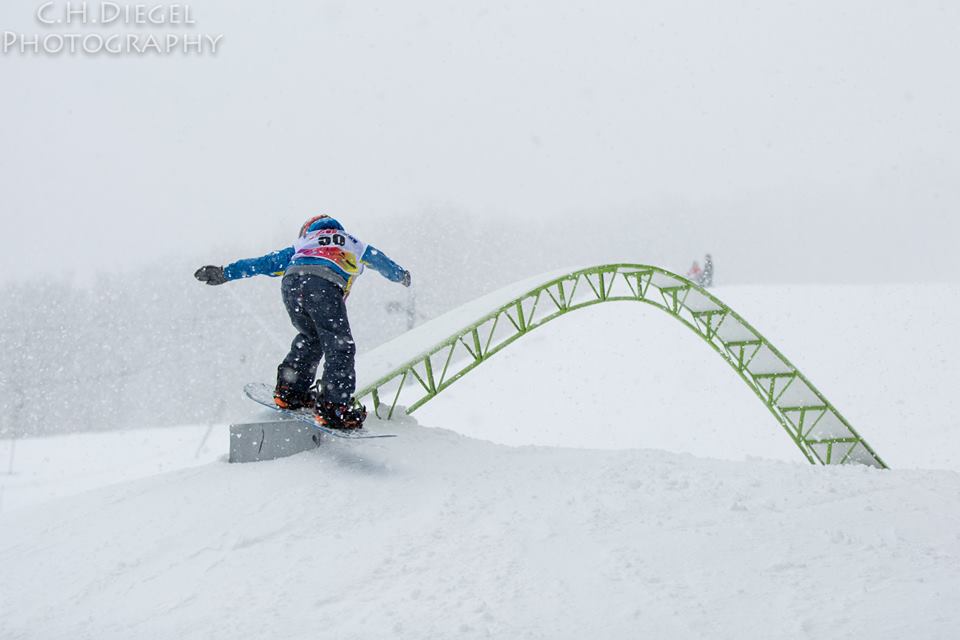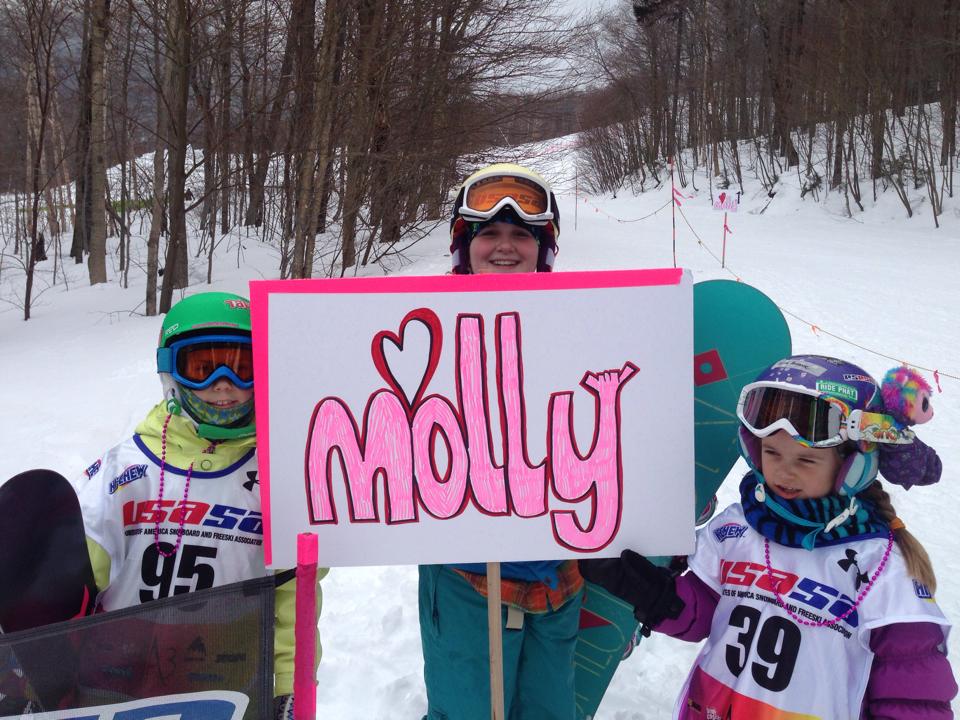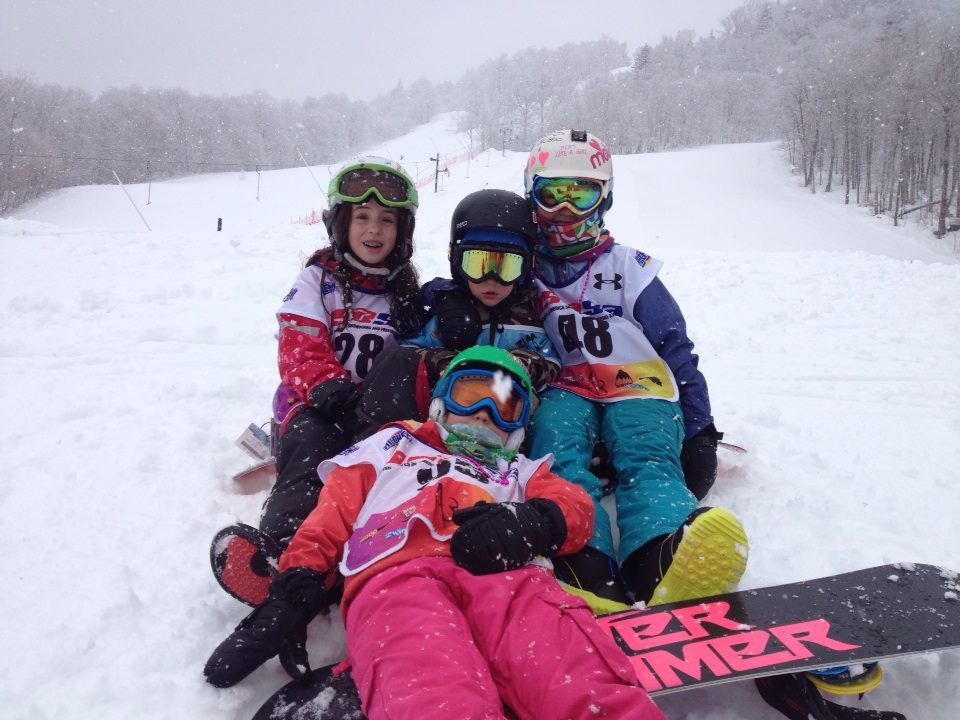 Darkside Snowboards is a legendary shop located in Killington, Stowe, and Okemo. I have known the owners, Billy and Teeta Langlands, for a long, long time and they're both awesome folks. Evan Ricker is Darkside's GM, and Evan called me last summer to talk about a contest idea that he was working on and how he wanted the event to benefit The Molly Fund. The Stash Park, located at Killington's Bear Mountain, is built by Burton Snowboards, and Evan and the Killington Parks crew created a banked slalom course that ran through the Stash Park and the Stash and Berm event was a reality. On Saturday March 15th they ran the open contest and Kieran and I were on hand for the event. We had close to 80 riders show up to compete and I saw a handful of pals of mine that made the trip in order to compete in the event. Sunday the 16th was the team challenge and there were 20 teams, comprised of 4 riders per team, that competed on Sunday and the weekend events raised close to $3,000 for The Molly Fund. Many thanks to Evan Ricker for his overall awesomeness, and big props to Jeff Alexander and Mike Garceau, from Killington Marketing, for creating the hype, and the amazing work from the K Parks team for building the monster. The overall support that we received from Burton and Matt Jagemann, and his crew from White Flag, was unreal. Thank you, Jag, Chris, Ryan, Erin, and Lyndsey.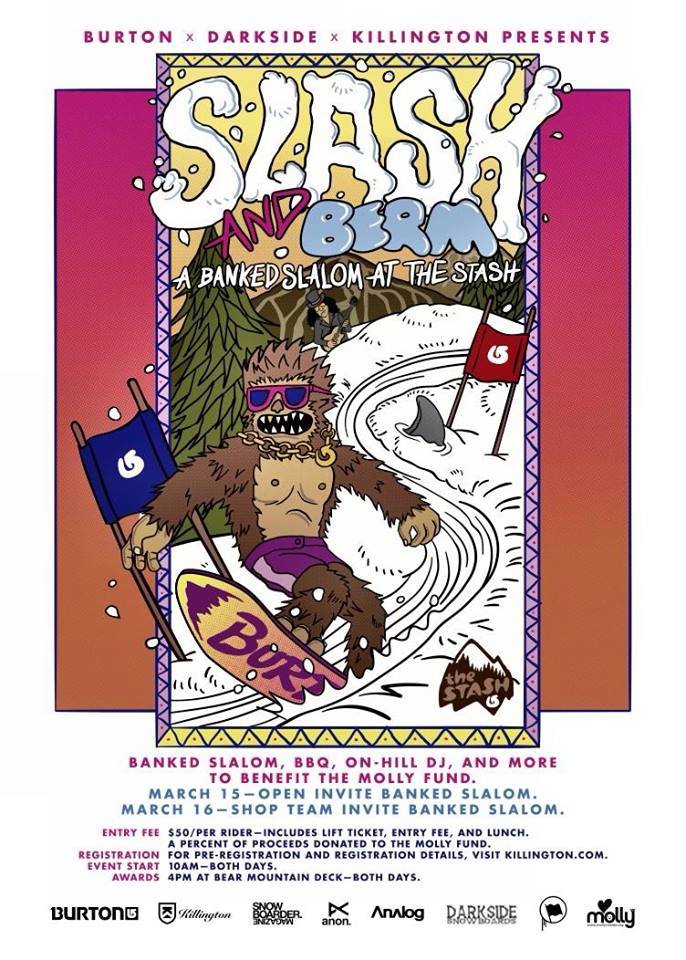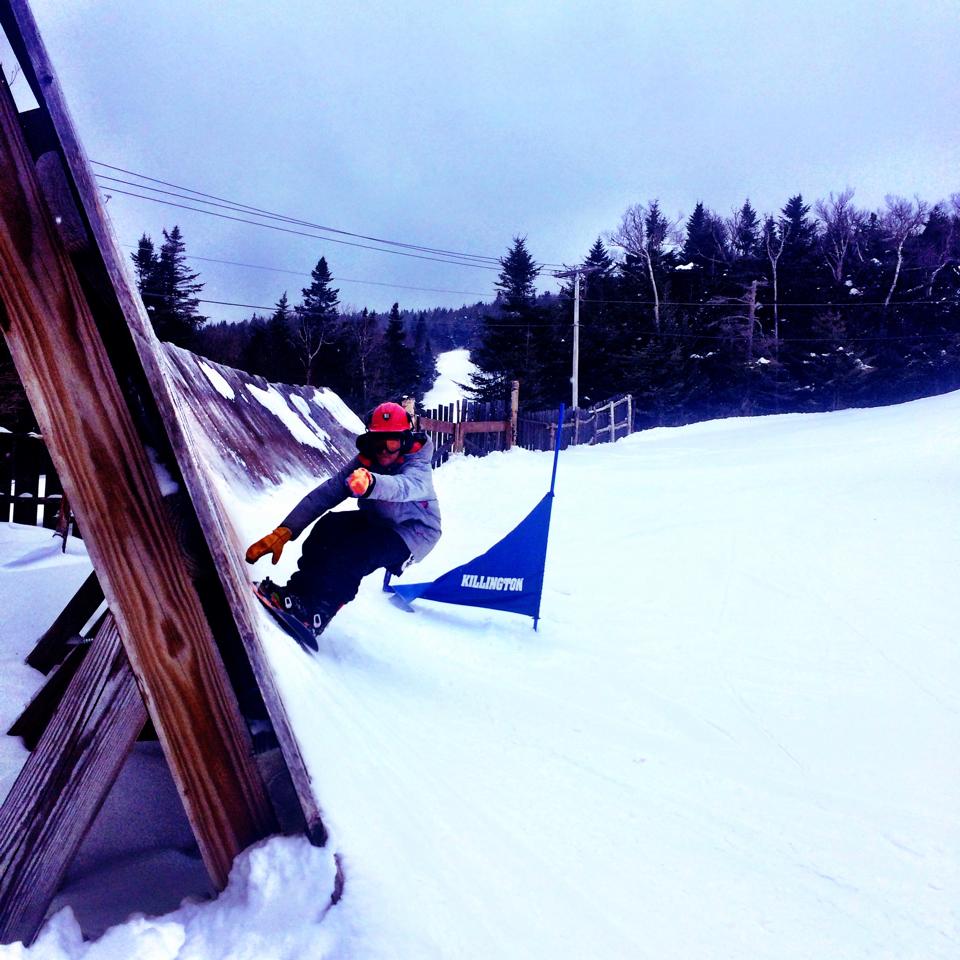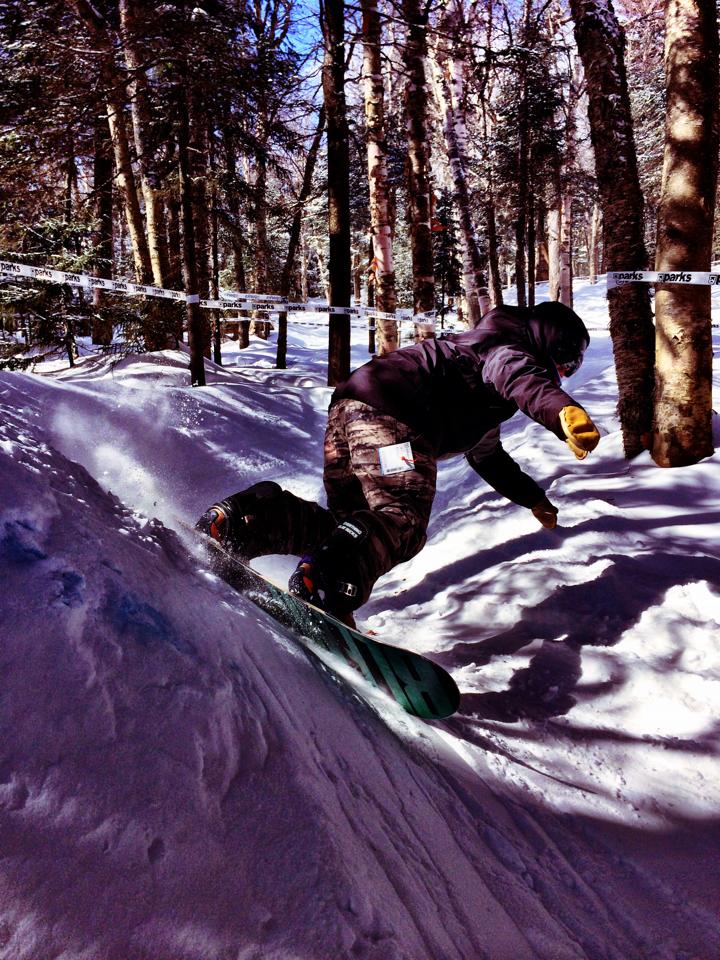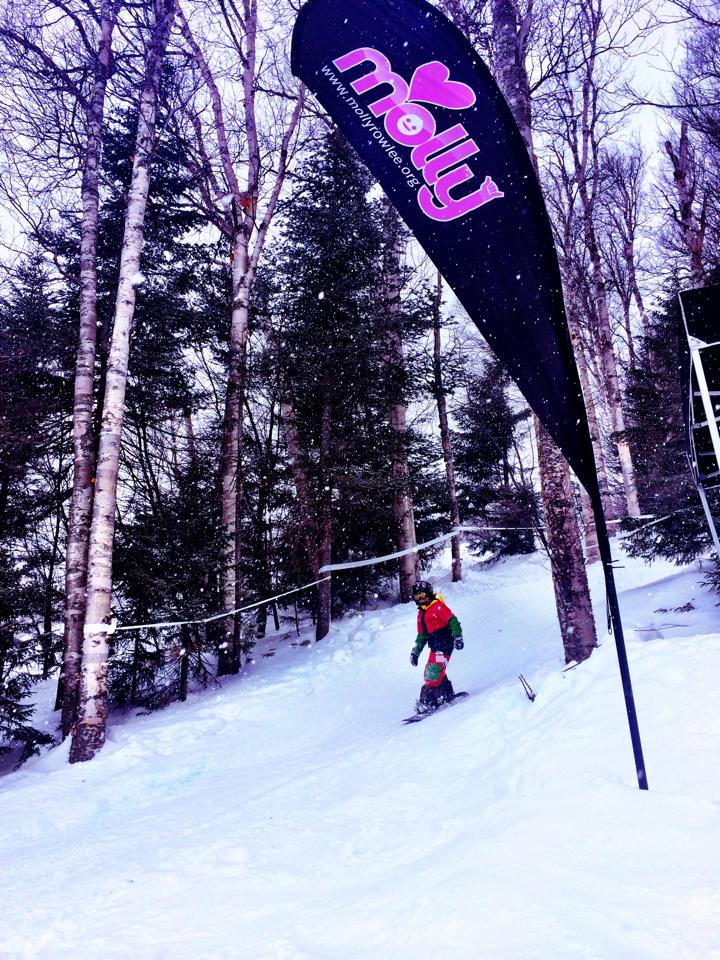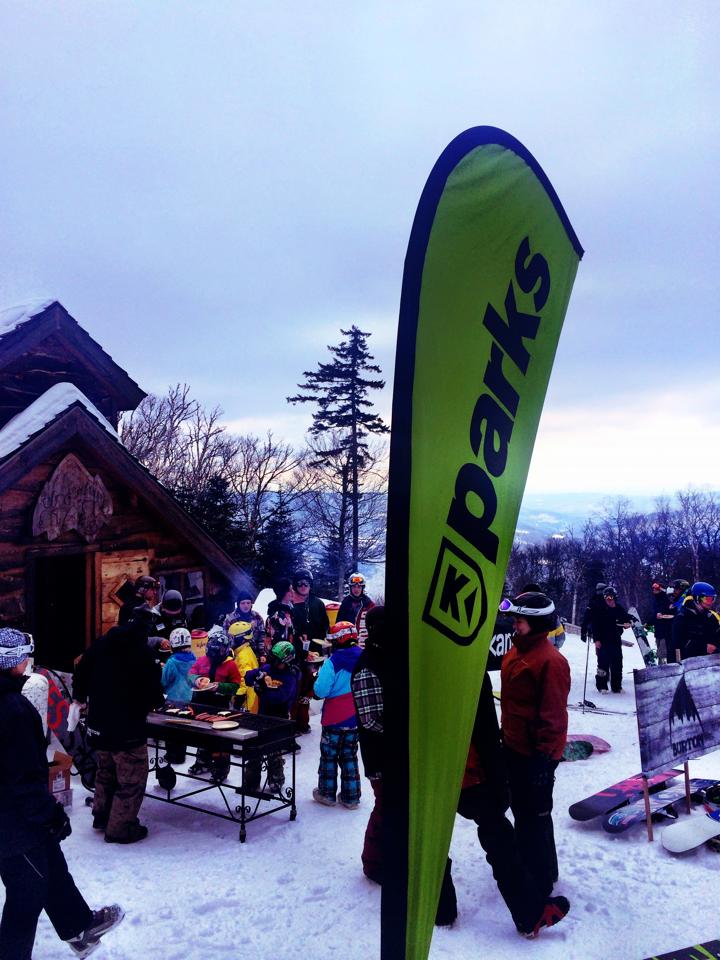 Kieran and I did some shredding at Killington, while we were in town for the event, and then we caught a flight back to NC on Sunday morning. By Monday night, I had packed away our snowboards and outerwear and we were back into our shorts and flip-flops. Winter is over, for us, but we're already thinking about this summer and our plans to spend some time back on the beach in Hampton where we'll catch up with good friends and throw down the fourth annual Molly Surf Celebration. Yep, get stoked for The Molly this summer because we'll be back in town and stoked to do our part to help create the magic of the Molly. Family first. Community and love…..
Hugs and high five!
Buck
Aug 13, 2009
When we set out to get the Molly items on this site made, we made a solid effort to use local businesses. There's plenty of options for getting stickers and t-shirts made online for cheap, but we checked around for small businesses and found the right companies to work with. They've all dedicated themselves to working with us to get the most reasonable prices they could afford, got us the stuff quickly, and it's all top quality. This process has been so good in fact, they all deserve a mention here, and made us re-structure our links on each page to help out the little guy.
Ink Floyd screenprinting
Dave Collier has a screenprinting business named Ink Floyd in North Carolina, and jumped at the chance to help us out. He gave us a solid deal on printing the shirts, turned them around faster than we ever would have gotten from a big company online, and the print quality was far better than I ever expected. It didn't stop there though; Dave also has a skate company called Saturday Skateboards and he donated 6 awesome decks for us to sell. We haven't figured out yet how we're going to do that, but keep an eye out for them. They'll either be sold on the site, or through an auction.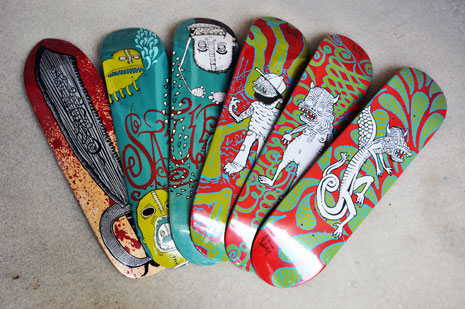 Check out Ink Floyd and Saturday Skateboards, and give them some business.
Lucky Signs
There's a fundamental rule if you're ever going to pick a vendor to make a sign for you. If they don't take enough pride in the sign representing their business, you should drive right by. Amazingly, a lot of sign makers don't have the skills or just don't care, which is why we stopped by Lucky to see if they'd make us some die-cuts since their own sign and truck were top-notch. It turned out they're two really talented guys that also jumped at the chance to help us out once they heard Molly's story. The deal was sealed when I found myself hanging out with them drinking beers while they wrapped up a huge same-day order on die-cuts.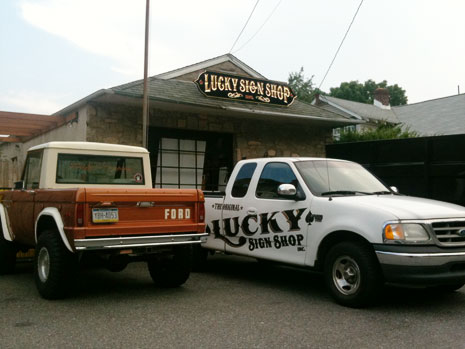 They're still building their web site, but you can find them here, just outside of Philly:

1348 Middletown Rd
Glen Mills, PA 19342
(610) 459-5825
Wright Labels
Nigel, who used to work with Buck, works at Wright Labels in North Carolina and also got us going with some die-cuts and posters for Molly's party. They're a printing business that keeps the process easy, and everything came out great. Check them out here:
wrightlabels.com
1100 Unity Street
Thomasville, NC 27360
(800) 678-9019
Jul 28, 2009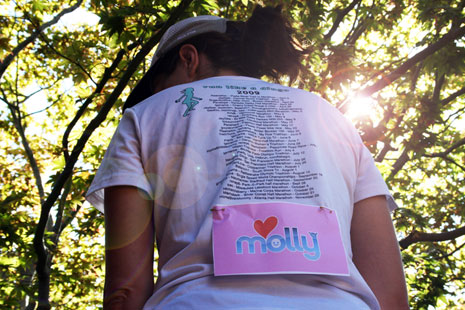 Yesterday, Jennifer Birch ran the San Francisco Half-marathon for Molly, and generated some money for the Molly Fund in the process. Her run was trackable here, but it seems it now only has an end-point from the race. Anyway, here's a recap of her experience:
---
Like so many people, I never had the privilege to meet Molly in person. However, having hung on Buck's every word through the CarePages site, I feel like I know her. I have a feeling I would have been lucky to have known her.
Yesterday, I ran the San Francisco half-marathon in her honor, as well to help raise awareness and donations for The Molly Fund. I have been training for this race for a while, well before we got the news about Molly's cancer back in February, but something about this day, this race, felt right to run it for Molly, as if she was my intent all along.
Like most runners, I have my routines and well-honed quirks. Prior to race day, I try to plan as best I can for the best possible outcome but inevitably, something will come up to remind you that it's not really all about you. Molly graced me with a few of these moments yesterday that I would like to share here.
I planned in advance to stay with a friend in the city the night before to make it easier on everyone when it came to getting me to the start line early. I forgot to bring along food, so I asked my friend if she had some bread and peanut butter for the morning. "Oh yeah, it's in the fridge, help yourself tomorrow." The first thing I saw the next morning, when up at dawn, alone, quietly trying to fix my fuel-up, was a jar of almond butter emblazoned with the brand name "MOLLIE" staring back at me when I opened the fridge. Even with the spelling misnomer, I smiled and thought to myself "This is going to be a good day. Let's do this."
Later, after I was dropped off at the start area in Golden Gate Park, I was looking over the lake, taking in the beauty, trying to calm my nerves a bit, possibly mumbling to myself…a flock of birds lifted up out of the lake and flew directly over me in perfect formation. I looked at the sky in awe, smiled and said a quick "Thanks" to Molly for the reminder that she was around, watching over me.
The next part was the best and the hardest. At some point a few days earlier when I created my music playlist for this race, I had a song on there I listened to during training that I was just not sure of. As I thought it over, I decided to keep it – it's a bit sad, but the words and imagery are beautiful and made me think of how I was running for Molly. I always set my playlist to shuffle so I never know what order the songs will come. This song arrived at a moment that I thought maybe I might skip it to get on to something faster to help me through a tough spot. I thought about it for a few seconds and decided, "Nope. I'll just take a moment during this part of the run and reflect on the reason I am running today: for Molly"… The words of the song came… "I will race you to the waterside.." and at that very moment, I emerged from a tunnel in the park, and looked to my left at the most beautiful waterfall I think I have ever seen. I have been in this park a lot and I have never seen this waterfall before right then. It took a lot to maintain my composure at that moment. I am afraid, actually, that I really didn't for a good few minutes. Luckily, with the Molly sign I had pinned to my back, I think people understood that I had more than just an individual purpose that day. Thank you, Molly, for that reminder and for giving me wings to finish my race.
-Jennifer